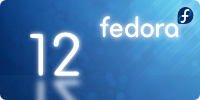 The Fedora project is very proud to present their latest innovative work, Fedora 12. This free and open source Linux operating system with its six months release cycle
consider Fedora 12 their greatest release ever.
What's new in Fedora 12;
– Next-generation (Ogg) Theora video
– Graphics support improvements *
– Virtualization improvements
– Automatic reporting of crashes and SELinux issues
– New Dracut initrd generation tool
– PackageKit plugins
– Bluetooth on-demand
– Moblin graphical interface for netbooks
– PulseAudio enhancements
– KDE 4.3
– Better webcam support
– Open Broadcom firmware
– SELinux sandbox
– Lower process privileges
These are just a summary of some of the new features, go to the release notes for detailed information on Fedora 12.