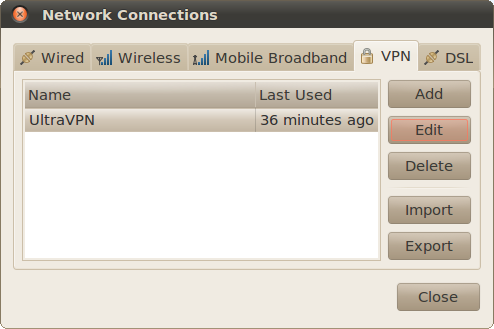 In Windows its quite easy to setup a VPN (virtual private network) client like the open source UltraVPN client that is fully based on OpenVPN. In windows system it takes less than a minute to get UltraVPN up and running – time spent in downloading, installing and creating a UltraVPN account. In Ubuntu takes a few extra minutes and you might need a windows partition.
– VPNs become handy when you want connect to websites with geographically blocked contents, when you seek for a secured access to files and folders, or for some extra privacy etc etc. UltraVPN offers the necessary anonymity for home users.
Lets get started: If you haven't installed any VPN protocol in your Ubuntu box, then you'll notice that VPN tab in Preferences -> Network Connections has no enabled buttons. What we need here is the OpenVPN protocol.
Installing OpenPVN;
We need to install 2 packages; openvn and network-manager-openvpn. If you install the second, it will install the first as a dependency; sudo apt-get install network-manager-openvpn
Now we need the UltraVPN certificates. How to get one;
(Beg for one, buy it or steal it but don't be caught.) If you have a windows partition, Windows PC or Windows as guest on VirtualBox like me then install UltraVPN, move to C:\Program Files\UltraVPN\config and copy these two files; client.ovpn and ca.crt, paste them into a newly created by-you "UltraVPN-Conf" folder in the Ubuntu home folder.
Rename the client.ovpn file to UltraVPN.conf
Rename the ca.crt file to UltraVPN.crt
The fastest way to obtain the UltraVPN certificates is to install UltraVPN in Ubuntu with WineHq. Download UltraVPN, right-click on it and run with Wine, then use the command-line to copy, paste and rename the needed files into the UltraVPN-Conf folder

cp ~/.wine/drive_c/Program\ Files/UltraVPN/config/client.ovpn ~/UltraVPN-Conf/UltraVPN.conf
cp ~/.wine/drive_c/Program\ Files/UltraVPN/config/ca.crt ~/UltraVPN-Conf/UltraVPN.crt

Your last chance; download the UltraVPN configuration package from from HERE and place it in your home folder.
Now move to System -> Preferences -> Network Connections, in the "VPN" tab, "Import" and select UltraVPN.conf. Fill-in user-name and password with your registered UltraVPN account.
Hit the "CA Certificate" filed and import the UltraPVN.crt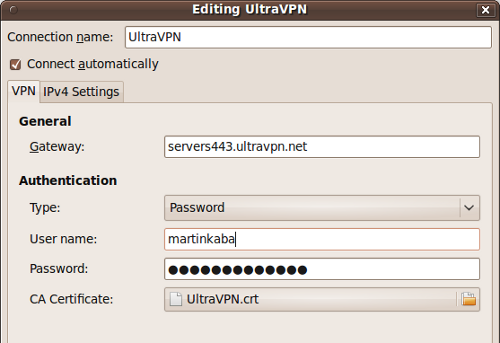 (Optional)
In the "IPv4 Settings" tab;
Method: Automatic (VPN) addresses only
DNS servers: 208.67.222.222, 208.67.220.220 (which are OpenDNS servers)
[Update]
In DNS severs, you can also use the new free DNS service called Google Public DNS, just drop-in the Google Public DNS IP addresses, separated by a space: 8.8.8.8, 8.8.4.4
Hit "Apply" and you're ready to VPN with UltaVPN
Now left-click on the "network connections" on the top left of the screen -> VPN Connections -> UltraVPN (see screenshot below)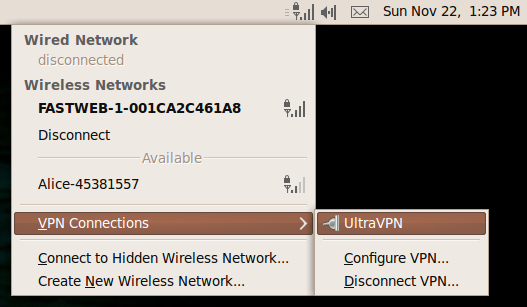 [Update]
1) If you get the message "no valid network secrets" then restart your network connections with: sudo service network-manager restart (Thanks Baddwolff).
2) Spotify is not yet available in your country, from Italy you can use this walk-through.
UltraVPN client is a free download for Mac and Windows. It is released under GNU/GPL license