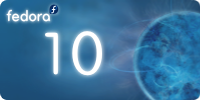 Fedora 10 is now out. The popular Linux distribution is one of a few that includes both Gnome and KDE desktops. Fedora 10 features GNOME 2.24 and KDE 4.1.2. "The new package qgtkstyle contains a Qt 4 style using GTK+ for drawing, providing better integration of Qt 4 and KDE 4 applications into GNOME."
Fedora 10 also includes virtualization features, a faster boot start-up process – the GRUB menu no longer shows up at start-up, except on dual-boot systems, OpenOffice.org 3.0, Gimp 2.6, Wireless Connection Sharing, Better webcam support. For more information read through the release notes.
You can download ISO images of CD and DVD media or images of USB flash disks.
Auhors Notes. Fedora used to be my preferred Linux distribution before I switched to Ubuntu. It remains on of the most maintained Linux distros out there. Would be fun trying it out.