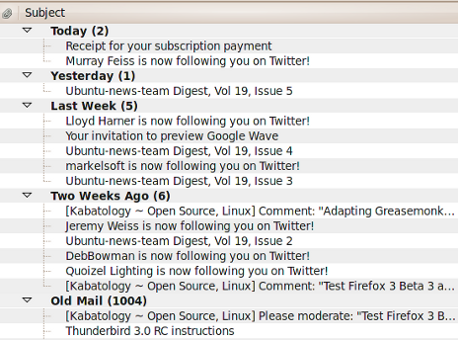 The Message Grouping feature in Thunderbird lets you a tclassy-up your message list into various 'groups of messages'. In Thunderbird 3 messages can be grouped according to attributes such as Date, Received, Star, Order Received, Priority, From, Recipient, Size, Status, Subject, Read, Tags, Junk Status and Attachments.
Most users will prefer the default Date attribute that when set organizes your inbox messages into groups labeled Today, Yesterday, Last Week, Two Weeks Ago and Old Mail in the "Descending" order.
Enable group messaging by clicking on View ->Sort By -> Grouped By Sort.
Note; Message grouping in Thunderbird is different from Microsoft's Outlook.
– Today refers to the current day, not the last 24 hours.
– Last week is actually the current week – that is messages that arrived in the last week minus messages that arrived today.
– Two Weeks Ago messages are those that arrived in the last two weeks that don't fall in the first two categories.
The From attribute for example will give you a clear idea of your email sources/senders. The name of the sender will be written in bold, beside it, the number of sent emails and a drop-down widget will all the emails listed.
If you have multiple email accounts in Thunderbird, you can use different attributes for different email accounts. For example the "Date" attribute for one account and the "From" attribute for another account. They won't interfere with each other.