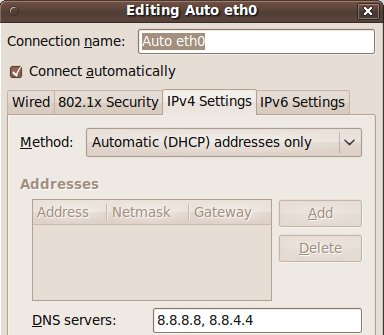 Google has a launched a new service, well that no news, what makes news is that it's a free DNS (Domain Name System) service called Google Public DNS.
Why will Google offer a service you already have, given that your ISP (Internet Service Provider) automatically handles the switching between easy-to-remember domain names and unique Internet Protocol (IP) numbers? As Google puts it – it aims at a more secure, faster, safer and reliable DNS alternative.
Like OpenDNS, Google Public DNS is free of charge. If you wish to try it full instructions are available for Mac, Windows and Linux (Debian and Ubuntu) platforms.
If you've set-up a VPN (virtual private network) in Ubuntu with OpenVPN protocol that uses OpenDNS servers, like Idid here with UltraVPN, you can also switch from OpenDNS to Google Public DNS.