The web application formerly known as Webrunner, now Prism is available as a prototype for download. The Prism prototype provides a cross-platform way to integrate Web applications with the desktop environment by making it possible to launch them as a separate process. Each of your favourite web applications or web site could have a launcher on your desktop or applications menu, and they would all run on different windows without toolbars.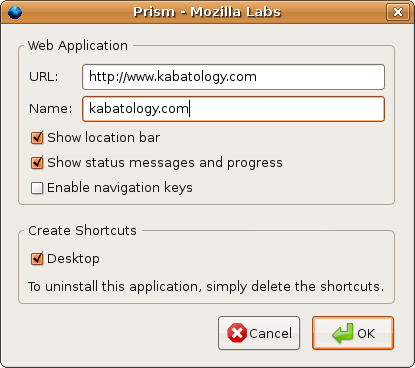 In Linux Prism needs no installation. Just download the Prism binaries and launch it from a terminal with
./prism
and you are ready to get going. From the dialog box you can type in the URL of the page you want, you must give it a name, then press OK. The web app or web site would now have it's own launcher in the location of your choice and the web app would be launched. This what makes Prism special – a fast and easy way to create a web app launcher.
Even though Prism still has a good number of bugs;
– It said that Prism Web apps do not notice the presence of Firefox plugins like Flash.
– Prism for now, does support extensions, and there is no interface for installing, loading, or unloading them.
it is good to give it a try and report the subsequent bugs or problems to the developers.