For all platforms: The firefox extension – hideBad hides your private matters from curious eyes. How does it do it? – it saves all tabs in current window, closes the current browser session and sends you the homepage or homepage tabs – all these in just a blink of an eye. To hide your current session it enough to hit the shortcut key; by default is 'Alt+x'
Your can block your restored sessions with a password. It also – if wanted, clears your Download history, Cookies, Saved passwords, History, Cache. Recently closed Tab list.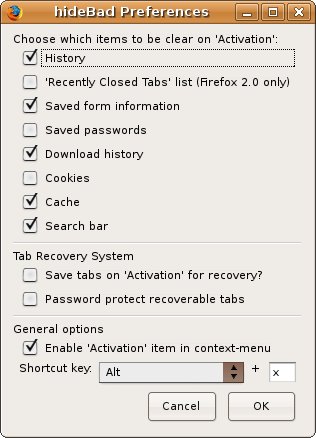 This is your secret tool if someone bumps into you whilst you are navigating in one of those kinky or "forbclassden" sites.
To install hideBad, you need to follow the famous three step process for installing Firefox plugins.
1. Get the Firefox extension hideBad
2. If you have default security settings on your browser, you should be asked for a "permit" to use this extension. After adding this site to the list of Trusted sites, click Install Now.
3. Once successfully installed, you'll be asked to Restart Firefox.