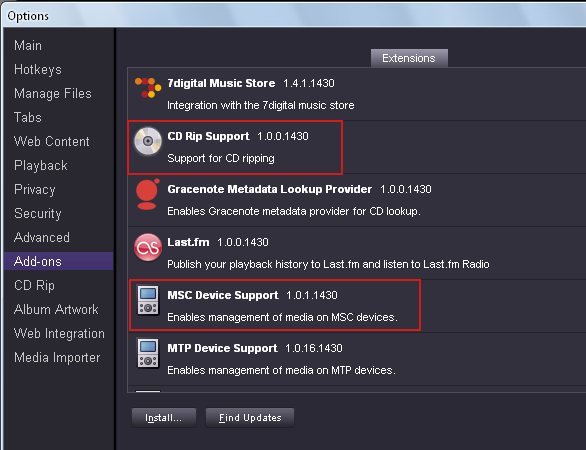 Songbird, the free and open source audio player application and web browser recently updated to version 1.4.1, but after a few bugs where found in v1.4.1 it then quickly updated to the most recent version 1.4.2.
Songbird 1.4.1 for Windows has two new goodies that its Linux counterpart does not have; CD Rip Support and MSC (Mass Storage Class) Device Support.
With the MSC device support you can sync tracks and playlists to phones and other MP3 players using the MSC mode. Tracks in incompatible formats are transcoded in the fly. (If you're looking forward to synchronize your iPod from your Songbird library, use the iPod Device Support for Songbird)
CD Ripping is now present in Songbird. Well, better late than never. CDs can be ripped to FLAC/OGG or WMA. Songbird aptly dodges MP3 patents. The GStreamer MP3 encoder plug-in could be a costless solution for those who want to rip their CDs to Mp3.
Songbird browser and audio now has a brand new Purple Rain feather (skin) with toggle buttons and a simplified Display Plane (you are allowed to disagree with the "simplified" display pane).
Songbird is a free download for Mac, Linux and Window.