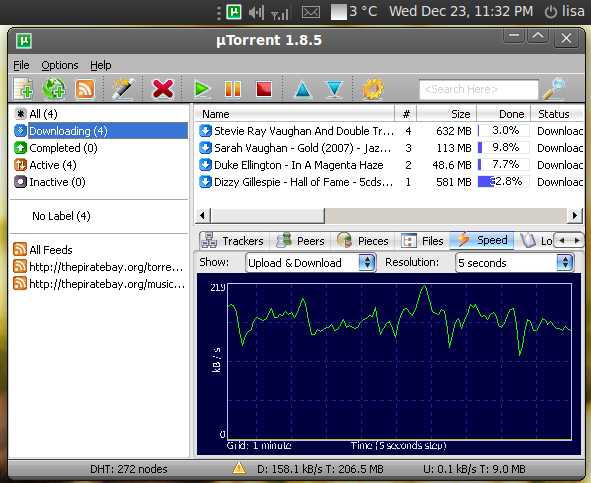 µTorrent, the world's most popular BitTorrent client is a light-weight Windows only application that is well known for its low resource-consuming ability and its speed, but is also known to put in-one-place most of the features (bandwidth prioritization, scheduling, RSS auto-downloading and Mainline DHT) you'll find in other BitTorrent clients like Azureus or BitComet. uTorrent v2.0 (still a beta) adds UDP Support – UDP trackers are less resource intensive than HTTP trackers. They "put less strain on their servers".
Rather than using the official µTorrent runnable to install the BitTorrent client in Ubuntu, I used µTorrent Portable by PortableApps that is lighter – it takes only 1MB of your hard disk or portable USB key space when installed. It has a more simplified installation process – µTorrent Portable actually trims the installation procedure by dropping the creation of launchers. You won't find 'Create Start Menu entry' or 'Create Quick launch icon' as you'll find in µTorrent.exe. It also drops the 'Configuration' step (click to see screenshot); and includes a online installer that downloads additional files during setup and updates the client.
To get started, just attach your USB pendrive to your PC, download µTorrent Portable by PortableApps into your pendrive. I'm supposing you have Wine on your Ubuntu PC, if not install it via the Synaptic Package Manager or use Perfecbuntu script and get its extras…
Right click on the uTorrentPortablex.x.x_online.paf.exe file in your pen-drive/hard-drive, and choose the "Open with Wine Windows Program Loader" option and follow the uTorrent installer wizard.
Choose where to install µTorrent Portable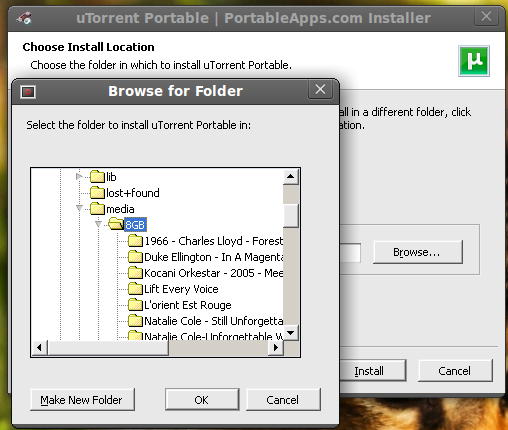 Installation and download of additional files.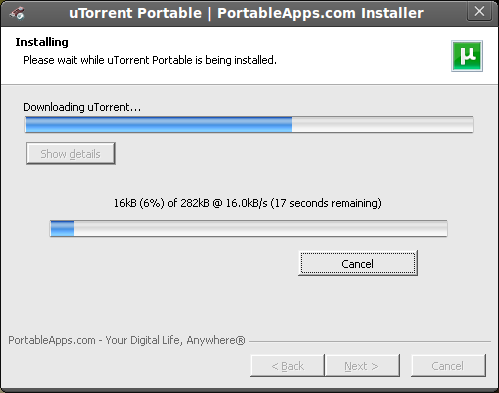 At the end of the installation you'll find a uTorrentPortable folder in your hard drive. uTorrent will be launched automatically, if its not launched then from the command-line do for example wine "/path-to/uTorrentPortable.exe". Your downloaded files will be dropped in the uTorrentPortable -> Data -> downloads folder.
Now create a launcher: Right-click on Applications -> Edit Menus; in the 'Main Menu' window, under 'Menus' hit 'Internet' and 'New item'. In the 'Create Launcher' dialog, fill in the fields as follows:
Type: Application
Name: uTorrent
Command: wine "/path-to/uTorrentPortable.exe"
We are now through with the installation, power users can go ahead and setup a uTorrent WebUI that permits you to access uTorrent from anywhere on the web.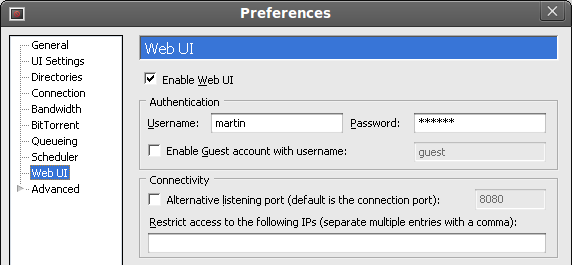 Fire up uTorrent and go to Options -> Preferences, in the 'Preferences' window, tick the box 'Enable Web UI', and fill-in a Username and Password. Before closing the Preferences windows go to the Connection tab and copy the Listening port number.
Now launch your browser and point it to http://localhost:port/gui/ – replace 'port' with your previously copied port number, you'll be prompted for a Username and Password.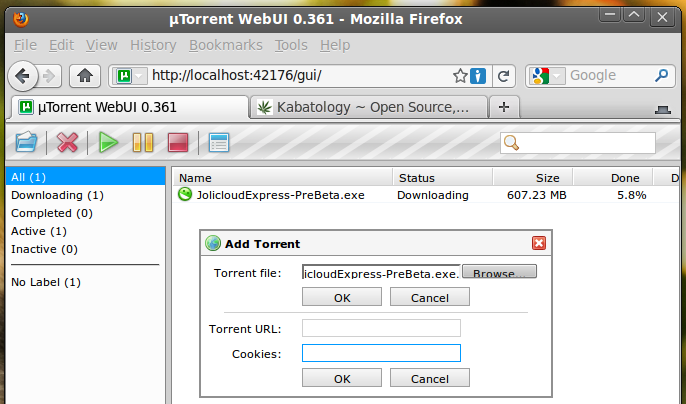 Fill-in the previously created username and password and the see the uTorrent interface load into your browser. But you're still accessing uTorrent from a local computer using the localhost address, which frankly makes no point.
To access uTorrent from any computer connected to the Internet that is not your own and that is not part of an extended network with your home computer you need to assign an easy-to-remember domain name to your home computer; IP addresses are not easy to remember, are often dynamic, and keep changing thats why you need a domain name.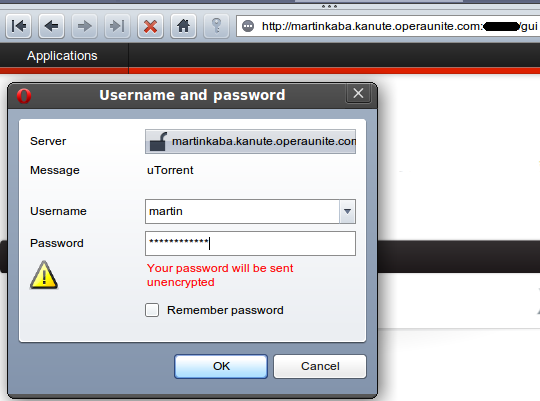 Where do you get one? There are free services like DynDNS.com can point a hostname to a dynamic or static IP address or URL. For those who have an Opera Unite account this becomes easy cause Opera Unite transforms your computer into a server, a home server with an easy to remember URL – you can host your running web sites from your own computer with Opera Unite web servers. All you have to do is add :port-number/gui at the end of your Opera Unite URL; where port-number is your uTorrent port number. Here the problem is you'll always need the Opera browser, precisely Opera 10.10 and higher.
Now you can remote control torrents in your home computer whilst in a far away country.