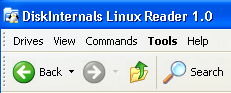 In dual- boot system say Ubuntu/Windows Xp it very easy to get into the Windows partition from Ubuntu to copy your documents and so on, but the reverse process does not give the same result i.e. copying your Linux files from the Windows partition. You can get a helping hand in DiskInternals Linux Reader. This is an absolutely free Windows only application that provides for read-only access of your Ext2/Ext3 filesystem partition.
The Windows Explorer like application can access any Linux file on Ext2/Ext3 from Windows including images – with a preview. It can also be run as a stand-alone application
Linux Reader is an Intel-compatible platform running Windows 9x/ME/NT4.0/2000/XP/2003/Vista.