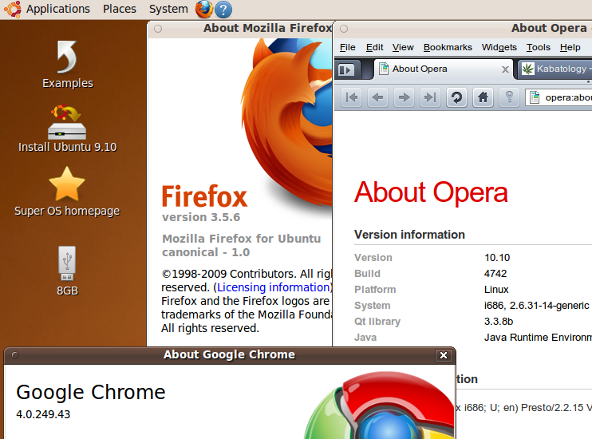 Super OS 9.10 (formerly Super Ubuntu) is jam-packed version of Ubuntu 9.10 'Karmic' for those who prefer to have Ubuntu 9.10 with a multitude of updated usable applications immediately after installation. This certainly makes Super OS heavy, in fact it is download-able as a Super OS 9.10 DVD that weighs approximately 1.05 GB.

So whilst Canonical intends dropping Gimp from Ubuntu 10.04 'Lucid' CD with the primary aim of gaining more space on the CD. The secondary aim if you care is; Gimp is said to be too complicated to be of interest to the average user – the guys at Hacktolive.org who develop Super OS 9.10 don't give a damn about space, their Super OS is patched with over 169 updates for a more stable Ubuntu.
The muscular Ubuntu 9.10 OS comes with ready-to-use applications like Google Chrome 4.0.249.43 the most recent Beta release now available for download, Opera 10.10 plus Unite web browser. Firefox 3.5.6 web browser is also the most current and comes with Flash and Novell Moonlight plug-ins. It packs multimedia support for DVD-playback, MP3 and other Linux in absentia formats like .mov, .wmv (windows media video), .flv (flash video), .avi (Divx). My favourite media player, VLC is also present with v1.0.2 Goldeneye. RealPlayer 11 Gold too.
What else would you find in Super OS 9.10 that is not present in Ubuntu 9.10 LiveCD?
– Internet software: aMSN, Skype 2.1 Beta for Linux,
– App Runner is included, makes running applications easier.
– File mounter will mount almost any format for you: tar.gz/.zip/.rar/.iso
– Java runtime environment.
– Easy customization of Ubuntu with Ubuntu Tweak,
– GParted with NTFS support for your hard drives
– System beep is disabled
– Super OS now has it's own repository, in addition to the official Ubuntu repositories
– Live USB creator (cd2usb) right from the DVD menu
– Most commonly used KDE and QT libraries included (for easier deployment of software and portable apps)
– Wubi was removed from Super OS 9.10 because some ubuntu updates "kill" wubi and wubi was not working.
– Winehq
On the road Linux users should consider using up-to-date and more secured Super OS 9.10 LiveDVD on their PCs. If for any reason I find it necessary to do a clean install of Ubuntu 9.10 then I'll certainly use Super OS 9.10 to spend less time installing all my favourite apps.