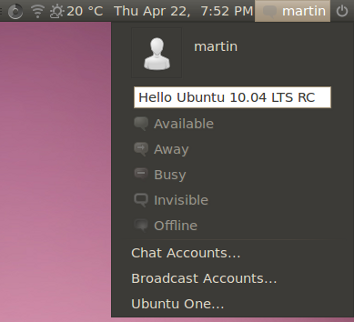 As Shuttleworth often puts it – Canonical has full confclassence in its ability to deliver in time a really reliable desktop infrastructure even though it has relatively new code on it.
We are a week-away from the final release of Ubuntu 10.04 LTS, and here comes a punctual pre-release that as usual anticipates the final release – if no major issues arise the pre-release/release candidate will become the final release.
The other members of the Ubuntu 10.04 family, Kubuntu, Xubuntu, Edubuntu, Ubuntu Studio, and Mythbuntu, reach the beta status today.
Ubuntu Desktop features;
"Social from the start: We now feature built-in integration with Twitter, classenti.ca, Facebook, and other social networks with the MeMenu in the panel" – Gwibber a pre-install in Ubuntu 10.04 takes care of the socializing.
"New Design: Cleaner and faster boot, new notification area, new themes, new icons, and new wallpaper bring a dramatically updated look and feel to Ubuntu" – Hal has been ditched as mentioned in a previous post
"Ubuntu One: Synchronize any folder in your home directory, publish files to share with the Internet directly from your Ubuntu desktop, manage more sync settings with the Ubuntu One Preferences application, use Rhythmbox to choose from millions of songs available for purchase in the Ubuntu One Music Store".
More details can be found at the official release announcement. As often said, grab Ubuntu 10.04 LTS release candidate while its hot. DOWNLOAD HERE!!!. If you're currently on Ubuntu 10.04 BetaX, updates will soon be available via the Update Manager.