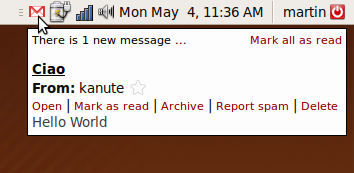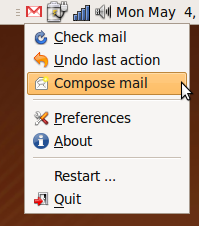 CheckGmail is another simple, unobtrusive Gmail Notifier for your Linux desktop. Unlike the python Gmail-Notifier, it's less Ubuntu-focused, as it has a RPM and source code packages for your Fedora/RedHat Linux and Debian
This easy-to-configure system tray application uses your Gmail account's RSS feed for minimum bandwidth use.
– With CheckGmail you can read, report spam, archive, or delete messages from within your desktop tray, without the need of a browser.
– CheckGmail works with Compiz Fusion and it's Compiz/Beryl derivatives.
CheckGmail has been part of Ubuntu since Ubuntu 6.10 (Edgy) – – it has gone through the test of time. Click to Install CheckGmail or do so with sudo apt-get install checkgmail