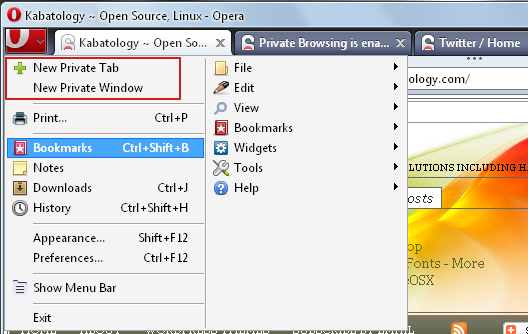 [Screenshot updated]
Two days back I presented an unofficial or "back door" version of Opera 10.50 pre-alpha with "Private tab".
Today the official version is out with Private Tab/Window browsing confirmed ("you can open a new Private tab or Private window that forgets everything that happened on it once closed".) but with an overall new User Interface. This pre-alpha is a feature-incomplete and unstable development build for "non-productive" Windows and Mac platforms, a UNIX/Linux version is still to come.
What's new:
Opera 10.5 pre-alpha has a new JavaScript engine called Carakan. "It's fast, more than 7x faster in SunSpclasser than Opera 10.10 with Futhark on Windows (Mac optimization is not as far along)".
Opera 10.50 uses the Presto 2.5 rendering engine, which contains a huge numbers of improvements. "It also includes support for CSS3 transitions and transforms, and more HTML5 features like persistent storage." – Vega is now the new graphics library.
As concerns the UI;
On Windows 7 and Vista you now get the Aero Glass effect. For Windows 7 in particular, the added Aero Peek and Jump List support help gain quick access to your Speed Dials, Tabs, from the Taskbar.
Mac users gain Growl notification support and a Unified Toolbar with native buttons, scrollbars, multi-touch gestures (try 3-Finger Swipe Left/Right or Pinch to zoom) and more.
Non-modal dialogs make tabs and windows switching possible while a dialog is displayed. It makes a lot of sense. Likewise the Password Manager dialog no longer blocks any content of the page from loading.
Lastly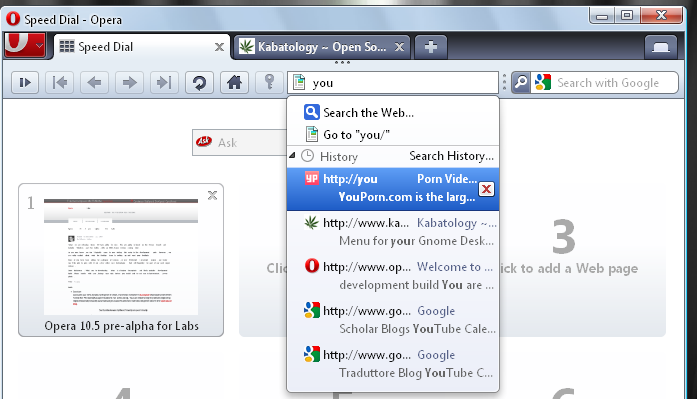 Address field and Search field improvements now remember searches, you can also select and remove items from the history and show results in a better layout.
Opera 10.50 pre-alpha is a free download for Windows and Mac. Its for test purposes so handle with care!!!